?Why is it so important to audit your site for accessibility
The diversity of people with various needs visiting your site from different countries should not be ignored when making decisions regarding the design, development, and marketing of your website
Users with disabilities visit websites as any other web visitor, however, more often than not they won't be able to gain access to all of your content. The purpose of an audit is to objectively measure what accessibility features are missing from a website, or which accessibility features can be improved
Big Data with crowd-sourced scanning
Data – more than 100,543,679 web pages from more than 50 CMSs made accessible on our platform. Our
platform`s database contains more than 1,000,000 accessibility remediation rules

The free version of EqualWeb's Accessibility Widget has a partial compliance model that triggers temporary accessibility changes at key intervals, while the paid version not only offers these enhancements but also remediates underlying code to work with assistive technology for different WCAG guidelines
The EqualWeb website does not collect any personally identifiable information (PII) or behavioral data on your site or its visitors, as it is part of our privacy-by-design organization. For more information on this topic, please
refer to EuqlWeb's Privacy Policy
The Americans with Disabilities Act (ADA) became law in 1990. The  ADA Compliance is a civil rights law that prohibits discrimination against individuals with disabilities in all areas of public life, including jobs, schools, transportation, and all public and private places that are open to the general public. The purpose of the law is to make sure that people with disabilities have the same rights and opportunities as everyone else. The ADA gives civil rights protections to individuals with disabilities similar to those provided to individuals on the basis of race, color, sex, national origin, age, and religion. It guarantees equal opportunity for individuals with disabilities in public accommodations, employment, transportation, state and local government services, and telecommunications. The ADA is divided into five titles (or sections) that relate to different areas of public life.
In 2008, the Americans with Disabilities Act Amendments Act (ADAAA) was signed into law and became effective on January 1, 2009. The ADAAA made a number of significant changes to the definition of "disability". The changes in the definition of disability in the ADAAA apply to all titles of the ADA, including Title I (employment practices of private employers with 15 or more employees, state and local governments, employment agencies, labor unions, agents of the employer and joint management labor committees); Title II (programs and activities of state and local government entities); and Title III (private entities that are considered places of public accommodation).
It is important to remember that in the context of the ADA, "disability" is a legal term rather than a medical one. Because it has a legal definition, the ADA`s definition of disability is different from how disability is defined under some other laws, such as for Social Security Disability related benefits.
The ADA defines a person with a disability as a person who has a physical or mental impairment that substantially limits one or more major life activity. This includes people who have a record of such impairment, even if they do not currently have a disability. It also includes individuals who do not have a disability but are regarded as having a disability. American Diabetes Association also makes it unlawful to discriminate against a person based on that person`s association with a person with a disability.
 features with remediation tool
With our complete set of accessibility tools, EqualWeb helps enhance the browsing experience to best meet users needs, based on their individual disadvantages and preferences
Voice commands

Allowes users to browse the website without the mouse or keyboard, executing commands using the microphone alone

Smart navigation

Enables site navigation using numeric keys

Giant tech collaborations

We collaborate with powerhouses such as Google, Amazon and Oxford
Q. Explain your specialization in accessibility and advanced internet applications in brief.
has created a proprietary technology that automatically remediates issues of web accessibility, issues determined by the W3C – World Wide Web Consortium, and guided by the WCAG – Web Content Accessibility Guidelines. Without interfering with the already running website's architecture or modifying existing codes, we integrate our overlay widget solutions into client websites to create a digitally inclusive channel for media consumption. Our team of IT experts then meticulously scan the customers' site to unearth issues that may hinder web accessibility. Our machine learning algorithms identify and analyze inconsistencies in data patterns. Then, we introduce accessibility rules that fit customers' code, content, and style. With a single line of code at the back end, EqualWeb fulfills the entirety of the site's accessibility needs
A world leader and a pioneer in web accessibility, focused on helping people with disabilities to access digital information:  In the physical world, access for people with disabilities must be ensured. The same goes for the digital world – especially in the times of COVID. People with disabilities and the elderly must be allowed the same access, information, and ability to perform actions on stores and websites as anyone else. With over a quarter of the US population having some sort of disability, this is a market that cannot be ignored. This is the market that EqualWeb is addressing through its groundbreaking accessibility technology, which offers advanced functionalities that enable individuals living with various disabilities to browse the web in a secure way
It is interesting to see how  prioritizes the client. The company's typical client onboarding process begins with evaluating the customer's website before proceeding with any remediation widgets. It then issues a report to highlight the changes required to make the website/mobile app accessible.
Web Accessibility Solution
After ensuring that the site meets WCAG standards, EqualWeb issues an accessibility certificate to be placed at the site
 We recently interviewed Amos Lavi, Vice President of Sales and Strategy at EqualWeb. He talked to us about the need for online accessibility and how it is high time that the online experience was crafted to help the elderly and people with disabilities. We couldn't agree more. Read on for excerpts from the interview
Check ADA compliance
Auditing your websites for accessibility is important if you want to comply with the law and have a website that's accessible to everyone. A good way to get started is to audit your website for accessibility errors with EqualWeb's accessibility checker
Automated testing helps websites meet ADA standards.
EqualWeb helps web developers ensure their websites meet or exceed the Americans with Disability Act (ADA) with our free accessibility checker Chrome extension tool
The Checker detects issues that discriminate against users with disabilities, so you can improve your customer's experience while remaining compliant with federal law
All it takes is one click, and we'll provide you with an accessibility score as well as let you know exactly what needs fixing so that everyone has access to the information they need.
EqualWeb offers a uniquely FREE feature, named the  Accessibility Checker, which you can add to your Google Chrome browser
Download the Website Accessibility Checker and find out which of the most common web accessibility errors are present on your site. You'll be able to see what needs fixing and how it should be fixed, and it takes only a
few minutes to run a scan on your website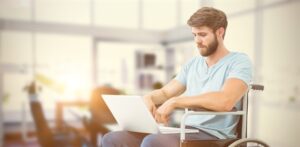 The perks of Web accessibility
By focusing on prioritizing the most critical accessibility issues first through an accessibility audit, changes can be incorporated faster and at a lower cost (since mistakes need to be corrected only once)
Did you know that Google renders website accessibility priority in search engine optimization? Site owners may not realize it but website accessibility helps them rank higher on Google Search Engine results pages. Google's algorithm for web accessibility has been updated and now takes website accessibility standards into account
A website with a clear, accurate, easy-to-navigate interface can help meet Web accessibility course regulations, build credibility and trust with customers—and, consequently, strengthen customer acquisition. Businesses that put the effort into accessibility gain visibility within an expanding minority market of potential consumers who are recognizing that these products make sense for them as well as helping to level the playing field for all by